How to Become an Actuary – If you're interested in a career in the financial industry, there are a lot of positions that seem to be good options. One such option is actuary, which is a profession with high demand and can lead to higher earning potential. Actuaries work with data to predict possible future outcomes for insurance companies, pension funds and other parts of the finance industry. This blog post will explore the different paths you can take to become an actuary, as well as some of the benefits and drawbacks that come along with this career.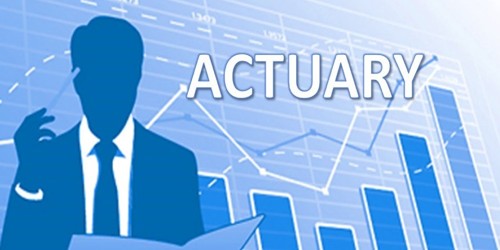 Learn About Being an Actuary in 2022
Actuarial science is the discipline of predicting and managing risk, which is used in many industries. Actuaries are professionals who study financial data and assess potential loss, then rate the probability of risk based on statistical analysis. The job outlook for actuaries is bright, with a 20 percent growth rate in jobs through 2020. If you're interested in becoming an actuary and would like to know what it takes to become one, read on.
Becoming an actuary is a difficult process. It requires four years of college and 3-5 years of work experience. Here are the five steps you will need to follow to become an actuary.
1) You need to earn a bachelor's degree in mathematics, statistics, or actuarial science. A strong background in math and probability is important for this major.
2) After college, you will need to pass the series of exams given by the Society of Actuaries (SOA). This process can take up to two years to complete depending on your test performance.
3) To work as an actuary, you must have three to five years of experience in insurance and financial services. These jobs include underwriting risks, setting premiums, and analyzing market trends.
4) You must be licensed before you can bill clients or provide any services with the SOA designation on it. The SOA has a Board of Examiners that reviews credentials and decides
What does an actuary do?
An actuary is a person who uses statistics to calculate the probability of events and to provide information about uncertainty. They do this by studying the patterns in data from past events.
This blog will cover some of the most common questions asked by people interested in becoming an actuary. What is an actuary? What do they do? What do they study? How much money can you make as an actuary? Is there anything else I should know before starting this career? An actuary's job responsibilities include:
Designing new insurance policies, determining what coverage is included and the price for the policy

Determining the probability and estimated cost of events like illnesses, injuries and accidents

Presenting research findings to clients, shareholders, government officials and company executives

Calculating how different insurance policies would pay out in various situations and creating charts to demonstrate them

Consulting with market research analysts to determine the demand for new insurance products
Average salary
Actuaries typically work full time during traditional business hours. Some actuaries may put in overtime, particularly if their business is facing a busy season. Salaries may also depend on geographic location, level of education and years of relevant experience.
Common salary in the U.S.: $115,284 per year

Some salaries range from $32,000 to $240,000 per year.
Actuary requirements
Actuaries have a specialized position that requires a specific skill set and educational background. Below are the core requirements for a job as an actuary:
Education
Employers typically prefer actuaries with a minimum of a bachelor's degree in actuarial science, mathematics, statistics or a related field. Courses in math, business, statistics, calculus, economics, corporate finance, accounting and management provide the advanced knowledge these professionals need. Some aspiring actuaries choose to earn a master's degree in actuarial science or another relevant field to advance their careers and increase their earning potential.
Training
New actuaries typically work as trainees under a mentor while they complete their certification. These actuaries handle basic tasks like conducting research and compiling data. They may also assist in underwriting, product development and marketing to get a well-rounded understanding of what the business does. Employers may pay for the trainee's certification exams and study materials during this period. Trainees often earn a bonus or raise for each certification exam that they pass.
Certifications
Actuary certification is available from the Casualty Actuarial Society (CAS) and the Society of Actuaries (SOA). CAS offers actuary certification for those working in the property and casualty field, including homeowners' insurance, automobile insurance, workers' compensation insurance and medical malpractice insurance. SOA certification is for actuaries working with life insurance, retirement benefits, health insurance, investments and finance. Associate certification from these organizations typically takes four to six years of study and preparation. Here are some of the certifications these professionals can earn:
CAS Associate Certification (ACAS)
To earn the ACAS, you must meet Validation by Educational Experience (VEE) requirements and pass three exams: probability, financial mathematics and financial economics. Applicants must also complete two e-learning courses and take a seminar on professionalism.
SOA Associate Certification (ASA)
The ASA is available to individuals who meet VEE requirements for mathematical statistics, economics, accounting and finance. Applicants must complete an e-learning course on the Fundamentals of Actuarial Practice (FAP) and take an Associateship Professionalism Course (APC). Then applicants must pass seven exams, complete a proctored project assessment and be approved by SOA's board of directors.
SOA Chartered Enterprise Risk Analyst (CERA)
Professionals who have the ASA certification may get CERA credentials by passing the Predictive Analytics Exam. Those who do not have the ASA credential must meet the VEE requirements for accounting and finance, probability and mathematical statistics. They must also take the FAP e-learning course, complete the APC, finish the Enterprise Risk Management Module and complete six exams.
SOA Fellow of the Society of Actuaries (FSA)
The FSA designation is available to candidates who have chosen a specialty track and completed specific requirements. The tracks include corporate finance and enterprise risk management (CFE), quantitative finance and investment (QFI), individual life and annuities, group and health, retirement benefits and general insurance. These individuals must complete all ASA requirements as well.
Skills
The following skills are important for an actuary to excel:
Communication: Actuaries must communicate clearly with supervisors, team members and clients. These professionals need to be able to translate industry terms into easily understandable language.

Analysis: Actuaries regularly analyze the statistical probability of events and their associated costs. Analytical skills are essential as this position requires strong estimates that are backed by reliable math.

Problem-solving: These skills equip actuaries to find the necessary data to fill in critical information as they craft their estimates. They should be adept in critical thinking and should be able to anticipate outcomes using statistical knowledge.

Computer literacy: Actuaries typically work with computer programs such as Microsoft Excel and Office. They should have strong computer skills and the ability to manage databases and reports quickly and efficiently.
Actuary work environment
Actuaries usually work for insurance companies, either as in-house staff or as consultants. They often specialize in a particular type of insurance, such as health, life or property and casualty.
Some actuaries work outside the insurance industry and perform their job on a broader scale. For example, an actuary might assess a variety of risks for a particular individual looking to protect themselves. An actuary may also apply their expertise to the overall risks facing a business, referred to as enterprise risk management.
A pension and retirement benefits actuary also works outside the scope of individual insurance companies. This professional is responsible for assessing business pension plans for financial viability. These actuaries evaluate the company's expected income against the future benefits promised to its employees. A pension and retirement benefits actuary must report their findings to the federal government.
Actuaries perform most of their work in an office. This job often requires long hours at a desk working on a computer. Actuaries that work with consulting firms may travel part of the time to meet with clients.
How to become an actuary
The path to becoming an actuary takes several years. Follow these steps to build a strong resume for an actuary career:
1. Get a bachelor's degree.
Earn a bachelor's degree in actuarial science, statistics, mathematics or a related field. Choose a course of study that includes classes in statistics, corporate finance and economics.
2. Obtain professional certification.
Gain certification with either the CAS or SOA. You may be able to do this is as a paid actuary trainee. This step can help you prove your qualifications to employers, increasing your earning potential and candidacy for advanced positions.
3. Hone your communication skills.
Consider taking a class or seminar in public speaking or communication to improve these skills. Experience in a business-related job can help you strengthen your communication skills as well.
4. Build your resume.
Craft a resume that highlights your skills in communication, analysis and problem-solving. Feature any experience in accounting, finance or business. Detail your education and certifications or progress toward certification.
5. Search for actuary jobs.
Look for actuary positions in your area. Some job titles to watch for include entry-level actuary analyst, actuarial analyst, associate actuary or actuarial consultant.
Actuary job description example
We are seeking an experienced health care actuary for our growing consulting firm. Responsibilities include calculating expected treatment costs, projecting health plan premiums and analyzing health plan projections. You will communicate regularly with clients as you gather data and deliver results. You should have your ASA certification, but we provide exam support for your FSA designations. The ideal applicant is proficient with Microsoft Excel and actuarial valuation software. You must have a minimum of a bachelor's degree and five years of actuarial experience.
Related careers