What does a medical secretary do? – Becoming a medical secretary is a great way to help people and earn money. Medical secretaries often work with doctors, nurses, dentists and other specialists.
They provide clerical support so that the doctor or specialist can focus on patient care. A medical secretary provides an important service for the healthcare system by organizing and managing the administrative tasks for the practice. Here are some tips of how to become a medical secretary: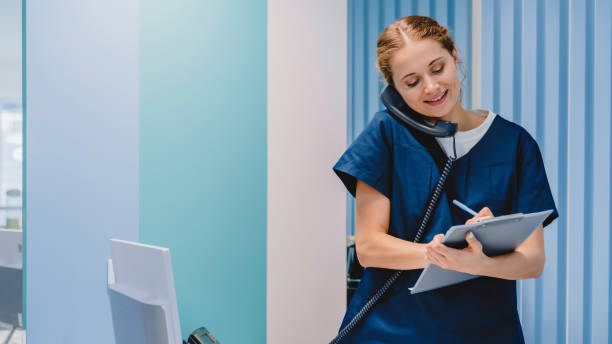 Learn About Being a Medical Secretary in 2022
The healthcare field is one of the largest industries in the United States. It's no surprise then, that the number of medical secretaries is also growing. Medical secretaries are professionals with a variety of job responsibilities, including administrative tasks and patient care.
In most cases, they are the first person a patient will meet when they enter a doctor's office. This blog post will explore all the steps to becoming a medical secretary. What does it take to excel in this field? What should you study? What type of certification do you need? And where can you find support? Keep reading to learn more about how you can become a medical secretary!
What is Medical Secretary
A medical secretary is the go-to person for doctors, nurses and other healthcare professionals. They take care of the day-to-day administrative tasks that keep a medical office running smoothly. Some responsibilities include managing the appointment book, answering phones, handing out information and providing support to patients.
Medical secretaries are often required to have an associate's degree in office administration or health information management. However, many people serve as medical secretaries without any formal education or training.
The following article provides a list of skills that you should have as a medical secretary in order to be successful in this position. With these skills, you will be able to perform your job more efficiently and with less stress.
What does a Medical Secretary do?
Medical secretaries are responsible for the administrative, clerical, and support work of any healthcare setting. They work in a variety of settings including hospitals, clinics, and medical practices.
Even though there are many similarities between medical secretaries, their responsibilities will vary depending on the size of the practice and job duties set by the employer. This blog will provide you with an overview of what a medical secretary does and how they contribute to the healthcare profession.
A medical secretary provides important clerical work for a hospital, doctor's office or other medical institution. They serve as a point of contact between the office and outside parties and oversee organization within the facility.
Some responsibilities of a medical secretary include:
Interact with patients daily in person, over the phone and through text communication

Manage appointments and ensure that doctors have ample time for each patient

Manage files and records, both on paper and digitally, to provide easy access when required

Oversee finances of the facility, including both payments from patients and insurers and those made by the facility to outside vendors.

Handle sensitive medical information with care while respecting all state and federal laws and regulations regarding patient privacy
Medical Secretary Salary
The average medical secretary salary is US$40,000 per year. The following is a list of the states with the highest medical secretary salaries in order from highest to lowest. These are also ordered by the cost of living index depending on how expensive each state is to live in and these states are ranked accordingly.
A career as a medical secretary can be rewarding, especially if you have a degree and work in a hospital or other health care facility. Medical secretaries often work closely with physicians, nurses, and other healthcare professionals.
Average Salary
Many medical secretaries are typically full-time employees and paid hourly. Salary for a medical secretary may depend their experience, time with the employer and the extent of work required for the office.
Common salary in the U.S.: $14.07 per hour

Some salaries range from $7.25 to $29.20 per hour
Medical Secretary Requirements
Receiving a position as a medical secretary may require an applicant to show suitable qualifications, including:
Education
Medical secretaries should have at least a high school diploma or equivalent, such as a general education diploma (GED). Some facilities may require an associate or bachelor's degree in medical administration or related field. Courses for a medical administration program may include word processing, medical terminology and business writing.
Training
Most medical secretary jobs will provide training following a candidate's hiring or during a trial work period. During this training time, a medical secretary will learn tasks such as filing, booking appointments or other responsibilities.
This training allows the medical secretary to work immediately and to cater their performances to the specific needs and expectations of the medical facility's staff. Following training, the medical secretary should be able to apply their skills throughout their daily responsibilities with minimal oversight and guidance in most situations.
Certifications
Although most postings will not require an applicant to carry any specific certifications, they can help to show value to potential employers. The International Association of Administrative Professionals (IAAP) offers two administration certificates useful for aspiring medical secretaries. For both certifications, the IAAP provides study material to help you prepare for the examination.
Certified Administrative Professional (CAP): The CAP requires an administrative professional to demonstrate their knowledge in the field by passing a multiple-choice examination. The test traditionally takes three hours and covers organizational communication, record keeping, business documentation and writing, event and project management, technology and information and business functions.

Organizational Management (OM): An OM certification is an additional certification that you can earn after securing a CAP certification. The exam is multiple choice and scenario based, covering organizational planning, advanced communication, advanced administration and team skills.
Skills
A medical secretary requires many skills to perform the job effectively:
Organization: This skill allows for efficiency in a workspace by creating order. Medical secretaries use organization to sort and file documents and create systems for daily activities. Organization is essential around a medical practice as there are a significant number of records, and doctors need to access their patients' information promptly to maintain a strict schedule.

Attention to detail: When managing medical records and treatments, it is important that all the small details are accurate. Keeping accurate files ensures patients receive the right treatments and that the secretary can create proper invoices to different insurance companies.

Verbal communication: This skill relates to an individual's ability to understand and convey information during a conversation. A medical secretary should be able to speak with staff, vendors and patients, both in person and over the phone. Excellent verbal communication skills enables a medical secretary to effectively convey instructions and requests with no misunderstanding.

Written communication: Medical secretaries should be able to communicate through email, text messages or letters. They should respond to text-based messages from vendors and patients.

Emotional intelligence: This skill enables an individual to read the visual or verbal cues of another person and use that information to respond appropriately. Strong interpersonal skills allow a medical secretary to dispatch their professional responsibilities tactfully.

Technical skills: Most medical secretaries use office technology to complete daily tasks. Some technological tasks that a medical secretary is likely to encounter include updating patients' digital records, managing billing and sending faxes. Some offices may require additional technical skills for their medical secretary as practices become increasingly modernized and technologically reliant.
Medical secretary work environment
A medical secretary works primarily in an office, including:
Sitting at the front desk of the facility on a computer, taking calls, answering emails and interacting with patients

Filing patient records in a system for easy access when the patient or a physician requires access to the records

Making and receiving phone calls related to patient appointments and managing the daily functions of the office

Speaking with patients at a front desk and assisting with any paperwork required for an appointment

Receiving, signing for and sorting mail and packages delivered, and preparing outgoing mail
How to become a medical secretary
Here are the standard steps for becoming a medical secretary:
Earn a diploma or degree. At a minimum, potential employers require a high school diploma or GED. An associate or bachelor's degree is helpful when applying for a medical secretary opening. You can earn a degree in medical administration, which will prepare you many of the duties related to the role.

Get certifications. Though most employers won't require a certification, earning one will demonstrate your knowledge and dedication to the position. Consider earning an administrative professional certificate that shows you can manage most medical office duties.

Work as a secretary. Prior experience as a secretary in an office setting can help to make you a more appealing applicant for a medical secretary position. If many medical secretary positions in your area require prior experience, consider accepting a related position, such as an office secretary or front desk clerk. In similar roles, you can gain valuable skills needed to earn a medical secretary position.

Craft a resume. Highlight your strongest attributes when crafting your resume for a medical secretary position, including skills and prior work responsibilities that are most applicable to your desired position. Organizational, interpersonal and clerical experience are all transferable skills that many medical facilities seek.

Apply for open positions. Once you have prepared your resume, earned any certifications and gained experience, you can begin applying for medical secretary positions. Focus on postings that align with your skill set and experience levels to maximize the chances of success.
Medical secretary job description example
Our medical practice is seeking a medical secretary to assist our small practice. Prior experience is encouraged but not required, and training will be provided for the right applicant. As medical secretary, you will be responsible for ensuring that our patients have a positive experience in the office.
You will also manage order in the office to help facilitate efficiency for our physicians by creating and maintaining filing systems for medical records, financial statements and inventory. The ideal candidate will have a positive work ethic, attention to detail and strong interpersonal skills.
Related careers