What Does a Medical Assistant Do? – Being a medical assistant is both challenging and rewarding. They are the backbone of the healthcare system, and they play a critical role in patient care. Medical assistants have many duties, including: scheduling appointments, taking vital signs, drawing blood, assisting with procedures and injections, recording data accurately and timely, and more.
Medical assistants also often work closely with doctors and other medical staff to help them provide top-quality care to their patients. If you want to become a medical assistant, here's what you need to know.
How to Become Medical Assistant – 2022
If you're considering a career in the healthcare field, becoming a medical assistant is a good way to get your foot in the door. Medical assistants are an integral part of any healthcare team and they do more than just file paperwork. They help patients and doctors with everything from simple tasks like taking vital signs to advance procedures such as drawing blood.
With so many different jobs that need to be done, it can be hard to know where to start.This comprehensive guide will teach you everything you need to know about being a medical assistant.
From what it takes for a person to become one, to what their day-to-day life is like, this handy guide will give you all the information you'll need before deciding if this is the right career path for you!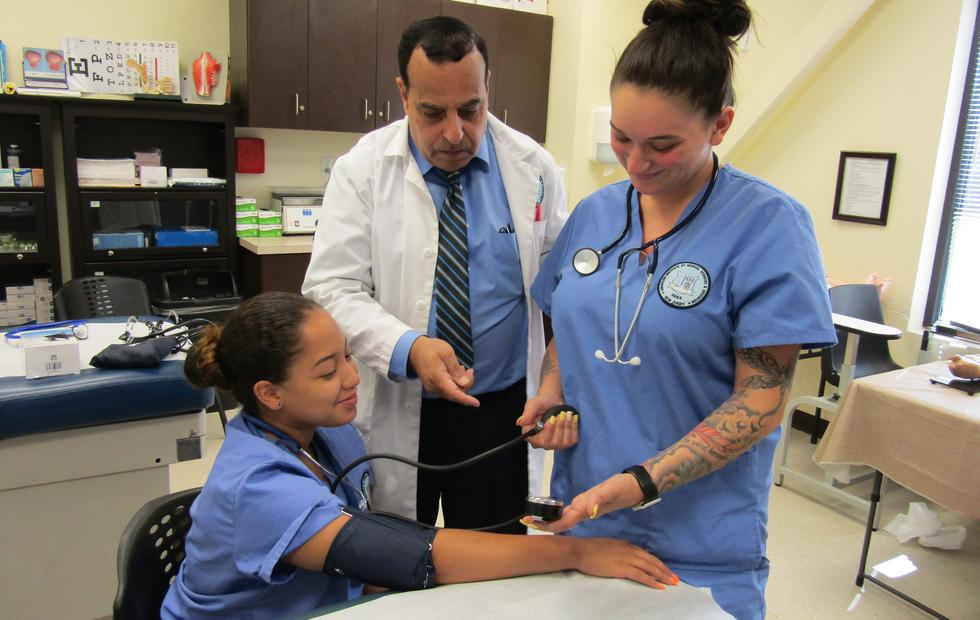 What does a medical assistant do?
Medical assistants typically work in doctor's offices, hospitals, nursing homes, and other healthcare facilities. Medical assistants perform administrative tasks such as scheduling appointments and answering calls; they also may be called upon to aid physicians with procedures as part of a larger medical team.
Medical assistants should enjoy working with people, have an interest in medicine, and be able to handle detailed work. Many medical assistants are trained on the job.
A medical assistant supports allied health professionals in a clinical environment. They're responsible for performing various clinical and administrative duties to increase the quality of care for the patient. Their job is critical to the success of doctors and nurses within a specific medical practice to ensure it runs efficiently.
Daily tasks for medical assistants include:
     Filling out billing and patient forms

     Evaluating samples taken from patients

    Administering patient refills of prescriptions

    Performing exams on an as-needed basis
Average salary
Most medical assistants are full-time employees, although some work evenings and cover shifts in medical facilities that operate 24 hours a day, seven days a week. Salaries for medical assistants can vary depending on education, previous work experience and geographical location.
      Common salary in the U.S.:

$14.80 per hour

     Some salaries range from

$7.25 to $35.60 per hour
Medical assistant career requirements
Earning a position as a medical assistant has particular requirements depending on the jobs you're applying to, including:
Education
Entry-level medical assistants are required to have at least a high school diploma or a GED certificate. However, most medical assistants have associate degrees. The most common degrees are in Medical Assisting, Biology, Psychology, Nursing and Medical Administration.
Those without degrees can volunteer in healthcare settings to gain valuable experience. Another option is to earn a certification in related disciplines such as medical insurance, medical billing or medical assistance- clinical. These types of certifications can help fast track job placements for those interested in getting started quickly
Training
For training, medical assistants can learn skills needed on the job, but formal education is recommended. Certificate and vocational training are offered for people who are pursuing certificates, diplomas or associates degrees.
Associate degree programs offer more advanced training and are recommended for students who desire to advance in the healthcare industry. Advanced programs to consider should be accredited by Commission on Accreditation of Allied Health Education Programs (CAAHEP) or the Accrediting Bureau of Health Education Schools (ABHES).
Certifications
Certifications help medical professionals move into specialized fields of interest. Two of the most common medical assistant accreditations in this field are:
 National Certified Medical Assistant (NCMA): Created by the National Center for Competency Testing, the   NCMA is an exam that requires a full understand of healthcare delivery. The content consists of categories     pertaining to general, clinical and administrative programs. The exam has 200 questions through four 40-  minute segments. Tutorials are widely available for takers to study before they take it. To be eligible, students must either be completing or a recent graduate of a CAAHEP or ABHES medical assistant program, a nongraduate of those programs or someone who's looking to get recertified by the AAMA.

Registered Medical Assistant (RMA): Created by the American Medical Technologists (AMT), the RMA is an exam that measures the competencies of those looking to become registered medical assistants. This test is for medical assistants focusing on the clinical and the administrative side of the profession. Applicants need to have previous experience working in clinical and administrative tasks at a medical practice. The certification lasts three years.
Skills
Medical assistants require various skills to perform the duties at-hand such as:
Communication skills: Verbal communication is key for a medical assistant to understand and carry out directions from a doctor or nurse within the practice. There are scenarios where they'll need to communicate instructions to patients during exam or administrative procedures.

Organizational skills: Medical assistants must fill out patient records and schedule appointments as a part of their role. Being organized with confidential patient information is essential in keeping track of activity during each visit.

Medical, safety and sanitation skills: Medical assistants must understand medical terminology in relation to the field in which they're a part of. They administer basic medical procedures like drawing blood or caring for an injured wound. They also have to be aware of patient safety and sanitation protocols in order to avoid contamination.

Computer skills: When working with patient information, medical assistants have to insert data into a computer system to keep track of electronic health records (EHR) so so they must be comfortable with the technical aspect of the position.

Customer service skills: Patients are always the top priority. Treating patient issues with care and respect is crucial in having them return.
Medical assistant work environment
Medical assistants work in different office settings that often have different characteristics, which can include:
Working in physicians' offices. hospitals and ancillary healthcare facilities

Sitting at a desk for a period of time

Using computers and printers to add, print and distribute patient information

Discussing confidential patient information with medical and administrative staff

Transmitting communication necessary between the doctor and the patients

Administering medical procedures on a case-by-case-basis
How to become a medical assistant
Pursue the proper education. Take a look at job listings within your area to see if the position is right for you. Earn the level of education required to enter this field and determine the career specialty you are most interested in.

Obtain relevant work experience. Temporary and part-time jobs and internships for medical assistant positions are available if you're in pursuit of an associate degree. Volunteer positions are also valuable to help you add to your resume. Know that if you prove yourself in a volunteer role, you might gradually acquire more responsibility and advance at a given practice or hospital.

Earn applicable certifications. Consider your education or work history before getting a certification as a registered or certified medical assistant. Some states only take CMA certifications, but RMA's are still good ones to have. It's wise to check the state you're getting the certification in when looking for one that best suits your career interest.

Prepare your resume. Include the highest level of education you have as well as certifications you've received. This helps you stand out when applying to positions. Name where you worked, your achievements and the dates you worked there.

Apply to medical assistant positions. Select positions that are aligned with your career path. Consider the experience and perspective that you have gained prior to now and seek positions that fit.
Medical assistant job description example
Our medical practice is seeking a medical assistant with zero to two years of work experience in clinical and administrative support.
Our growing practice needs a medical assistant to insert and maintain patient records for doctors and nurses in our database, assist in administering exams and basic medical practices like drawing blood, and answering additional patient questions and concerns when needed.
This person will also take charge in scheduling appointments for patients within a five-day work week, and write prescriptions for patients at the doctor's discretion. The ideal candidate has an associate degree from an accredited university, a National Certified Medical Assistant (NCMA) certificate and previous experience working in a doctor's office and with patients' medical records.
Related careers