In today's fast-paced world, the Internet has become a primary source of information, education and communication. With so many people using it for their personal and professional needs, online business degrees are becoming more popular than ever.
An online business degree from an accredited university offers several benefits over a traditional on-campus program. This form of  degree in business may be right for you if you live in a remote area with limited access to universities, can't leave your job for extended periods of time to attend classes or need to study at your own pace and from the comfort of your home or office.
It can provide you with the same level of education as an on-campus program without any of the inconvenience. Read on to learn about some of the advantages of an online business degree.
You can continue working while studying
One of the biggest benefits of an online business degree is that you can continue working while studying. You won't have to interrupt your income or career and can maintain your current work hours, schedule and environment.
You don't have to worry about losing your income or having to find a new job because of the time commitment of an on-campus program. If you need to travel for work, you can complete your online business degree from anywhere.
With online courses, you don't have to worry about finding a new school that accepts your transfer credits and finding the time to travel back to your original campus. You can simply log in to your online course whenever you're in a place with internet access.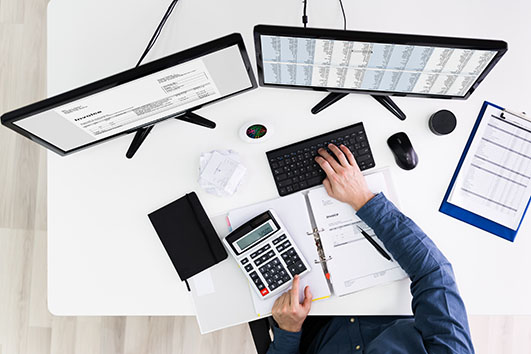 You have more flexibility in your course selection
Another advantage of an online business degree is the increased flexibility in course selection. You can choose from a variety of classes that fit your schedule, and you're not limited to a specific campus or time frame.
You can choose classes that are offered at any time during the day or night, weekends or during breaks. You can also choose from a wider variety of classes and specializations. Some on-campus programs limit the number of electives you can take, and some programs might not even offer the specializations you're interested in.
With an online business degree, you can take any course you want, whenever you want. This is especially helpful if your on-campus program doesn't offer the specialization you want to pursue.
Online classes are cheaper and faster to complete
An online business degree is cheaper than most on-campus programs, and the price often drops even lower when you factor in the cost of transportation and other expenses of living on campus. You can save even more money by completing your degree sooner.
On-campus programs often take longer to complete because of class size and course availability. You might also have to wait to get into a specific class that interests you. Individual online courses are often offered at your own pace. You can start and stop a course at any time, depending on your schedule and availability.
You don't have to wait for the next semester or for your turn in the course sign-up list. You can simply log in and access the course when you have the time.
You add business value
In business, it is believed that no one is necessary and that everyone is useful. Although it may appear cruel at first, corporations in the twenty-first century are continuously looking for ways to improve and modernize their workforces.
Business executives are in a position to advance the company and accomplish their goals and objectives. The most successful business executives are aware that in order to succeed, they need talented staff members with a variety of abilities who can seize opportunities and tackle challenging issues. As a result, they are searching for individuals that can benefit their business.
They offer the same quality of education as on-campus degrees
An online business degree from a reputable university is just as valid and valuable as an on-campus degree. In fact, many employers value online degrees just as much as on-campus degrees.
Employers understand that an online business degree is just as legitimate as one that's earned on campus. If you want to work for a specific company, you might want to consider applying for a position with that company before you even finish your degree.
Many companies accept online degrees and encourage you to apply. There are plenty of ways to make your online business degree even more impressive, including volunteering, participating in on-campus projects and joining community organizations.
Conclusion
With the increase in the number of online business degrees, prospective students are wondering if online degrees are just as valuable as degrees that are earned in person.
The answer is yes. Online business degrees have the same value as degrees earned on campus, and they come with several advantages, including the ability to continue working while studying, greater flexibility in course selection and a cheaper cost.
If you're interested in pursuing an online business degree, you can find many online colleges that offer programs in business administration, marketing and management.