What does a paralegal do – Becoming a paralegal is an increasingly popular and lucrative career choice, as there has been an increased demand for legal services.
Paralegals can work in law firms, with the government, or in other industries. They are often responsible for assisting and advising attorneys on legal issues, drafting pleadings and other important documents, and conducting research on the law. If you want to learn more about being a paralegal, read on!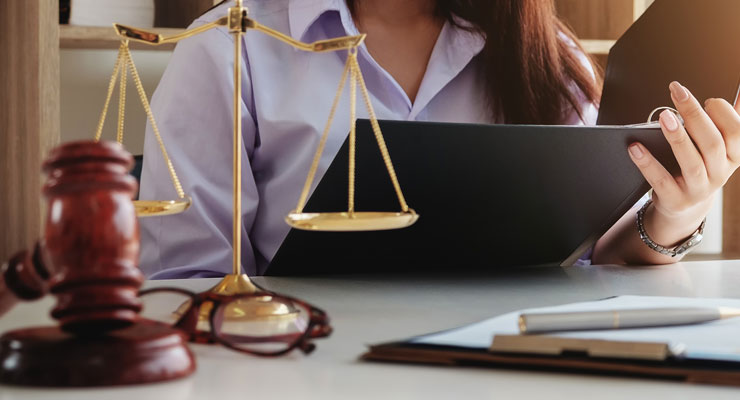 How to Become Paralegal in 2022
As a legal assistant, you will play an integral role in the legal process. You'll manage many different tasks, including interviewing clients, drafting documents and correspondence, performing legal research and making photocopies. But there's more to being a paralegal then just doing paperwork. The law is constantly changing and evolving, which means newcomers often feel like they have to learn everything on their own. To help make this first step easier for you, check out these tips on how to become a paralegal.
What is a paralegal?
Paralegals are professionals who assist lawyers in legal work that requires specialized knowledge, skills, and training. They typically handle what are called "non-legal" tasks and only provide legal assistance when it is needed.
Paralegals often communicate the law to the public, help clients understand their rights, and help people prepare legal documents. Paralegals also conduct research and perform other office tasks on behalf of lawyers and corporations.
Although paralegals' responsibilities vary from state to state as far as what they can do without a lawyer's supervision, many of them have completed specific education and training programs for paralegal certification through the National Association of Legal Assistants (NALA), International Paralegal Association (IPA), or National Federation of Paralegal Associations (NFPA). Some paralegals may go on to become lawyers themselves, while others join government agencies or become consultants.
Related: What is a Paralegal?
What exactly does a paralegal do?
A paralegal is a legal assistant who has the training and expertise to handle many of the tasks that are required by attorneys. Paralegals help with legal research, collect evidence, prepare legal documents, and file lawsuits. The role of a paralegal is an important one in the legal field.
A lot of what you do as a paralegal will depend on your individual employer or law firm. Some companies require you to have more experience before taking on more responsibility while others may give you more flexibility with your work schedule.
No matter where you work or what kind of paralegal work you specialize in, there are always tons of opportunities for you to learn and grow in this field. Read on to find out more about what a paralegal does!
A paralegal is a legal professional who performs a variety of work for a lawyer. Paralegals help lawyers prepare for trials, depositions and hearings and assist with preparing closing documents for cases. Their tasks vary depending on the size of their firm, but commonly include:
Drafting legal documents and reports requested by lawyers

Developing legal arguments, motions and case filings with lawyers

Conducting case research using existing files and other relevant resources

Gathering case evidence, including affidavits and formal statements

Maintaining and organizing legal files for ongoing and resolved cases

Monitoring pertinent changes to government regulations and guidelines
Paralegal Salary
The Bureau of Labor Statistics reports that the median annual wage of paralegals and legal assistants is $46,680. The top 10% earn over $71,000 a year.
Paralegals also have potential to earn a higher salary after gaining experience on the job and developing skills. Paralegals who have a bachelor's degree in criminal justice can make up to $78,000 a year or more. These are just some facts about what paralegals do and their average salary. Read on to learn more.
Typical salary
Paralegal salaries depend on a variety of factors, including whether they work for a government entity or a private firm, how large the firm or government entity is and their level of education and experience.
Common salary in U.S.: $50,261 yearly

Typical salaries range from $14,000 – $109,000 yearly
Paralegal requirements
Becoming a successful paralegal requires specialized formal education, training and a variety of necessary skills that enable these professionals to assist the lawyers they work with.
Education
Paralegals typically need at least an associate's degree in paralegal studies, although many firms prefer a bachelor's degree. In some instances, a firm may hire someone with a high school diploma as a legal assistant, then provide on-the-job training to become a paralegal.
Training
Paralegals often receive most of their training on the job. If they work for a firm, they will learn more about its specialization, such as family, labor or corporate law.
A paralegal could also attend conferences or seminars as part of off-the-job training. During these conferences, a paralegal may learn about the most up-to-date regulations in their specialty. Conferences and seminars are often a part of a paralegal's continuous training since legislation changes often.
Certifications
Some states also require certification from an official body, such as:
The National Association of Legal Assistants (NALA): NALA offers a Certified Paralegal (CP) training program. A CP is a nationally-recognized certification that shows an individual can effectively perform paralegal functions. To earn a CP, a person needs to have completed an American Bar Association-accredited paralegal program or earned an associate's or bachelor's degree in paralegal studies. A combination of education and experience could serve as a substitute for these requirements. Candidates must also pass an online exam that consists of both multiple-choice and essay questions.

The National Federation of Paralegal Associations (NFPA): Paralegals can take two certification exams with the NFPA—the Paralegal CORE Competency Exam or the Paralegal Advanced Competency Exam. Passing the Paralegal CORE Competency Exam earns you a CORE Registered Paralegal certification while passing the Paralegal Advanced Competency Exam earns you a Registered Paralegal certification. In order to be eligible to complete either exam, you must have a combination of education and experience. A CRP certification shows a candidate understands the foundations of the paralegal profession, while an RP certification demonstrates advanced paralegal knowledge.

The Association for Legal Professionals (NALS): For paralegals, NALS offers the Professional Paralegal exam. To sit for the Professional Paralegal exam, an individual must have a combination of paralegal education and experience. The exam includes four 60-minute sections that test candidates on a variety of paralegal competencies. Earning a PP shows a paralegal has advanced knowledge of several aspects of law.

The American Alliance of Paralegals, Inc.: AAPI offers an American Alliance Certified Paralegal certification that demonstrates a paralegal's ability to navigate the role successfully. To earn an AACP, candidates must be a member of the AAPI, have a combination of education and paralegal experience and pass an exam.
Most paralegal certifications require regular renewal.
Skills
Law firms and other organizations look for the following skills in paralegals:
Verbal and written communication: Paralegals use their communication skills to understand a lawyer's requests, explain research findings and write reports and other legal documents. Paralegals with good communication skills can work efficiently with other legal professionals and their clients.

Organization: Strong organizational skills help paralegals file, maintain and retrieve legal documents and notes when managing several cases at once. Organizational skills also help paralegals adapt when deadlines change.

Research: Paralegals use their research skills to find the information they need to build a strong case and synthesize information. Many employers prefer experience using legal research software, including Westlaw and Lexisnexis, though they may offer on-the-job training to teach paralegals these programs.

Computer literacy: Technologically proficient paralegals can efficiently enter information into legal database software and update it as required. It can be helpful to have experience using popular legal database software, including Clio and MyCase. Since many firms use the Microsoft Office Suite, paralegals should have a basic knowledge of those programs as well.
Career outlook
The long-term career outlook for paralegals is positive, according to the U.S. Bureau of Labor Statistics(BLS). Grouping paralegals with legal assistants, the BLS suggests jobs for these professions should grow by 15% between 2016 and 2026.
This is much faster than the national average job growth. It notes paralegals with formal training and good computer and database management skills should have the best career outlook.
Paralegal work environment
Paralegals typically work in law firms, legal departments of medium to large companies and government agencies. These offices are often fast-paced environments where paralegals work on several cases at once under strict deadlines. They work independently and with other legal professionals, including lawyers, other paralegals and legal assistants.
Paralegals spend most of their time working in their offices. However, they may spend time outside the office researching cases, collecting evidence and documents, accompanying lawyers to court and performing other tasks.
Most paralegals work full time. Some paralegals may work contract positions when law firms have heavy caseloads. Paralegals sometimes work more than 40 hours a week to meet deadlines.
How to become a paralegal
Paralegals typically earn formal qualifications, usually in a legal field, before gaining employment. Many paralegals follow this path:
Pursue paralegal education: Paralegals must have a high school diploma or equivalent. Usually, becoming a paralegal requires further study, but some law firms will train high school graduates to become paralegals. Earn an associate's degree or bachelor's degree in paralegal studies or related field. Further study is often required, even for paralegal degree holders, as many paralegal degrees are not approved by the American Bar Association.

Earn a certificate in paralegal studies: You can gain specialized knowledge through a certification course. These courses cover topics relevant to paralegal including ethics, legal research and writing and law specialties such as business, family and personal injury law. Some states require a paralegal certification in order to practice. Some organizations also prefer hiring candidates with a paralegal certification.

Prepare your resume: Create an organized and professional resume that includes your education, relevant experience, certifications and applicable skills. Consider using the job listings you're applying to for specific keywords you can include in your resume to properly align your qualifications with the expectations of prospective employers.

Apply to support lawyers: Use your professional resume to apply to paralegal roles you're qualified for. Be sure to review the desired qualifications. Consider choosing positions that fit your interests, such as in corporate law.

Further your legal education: Since legislation often change, many certifications require paralegals to undergo ongoing education for renewal.
Paralegal job description example
We are a growing law firm seeking a reliable and proactive paralegal to join our dynamic team. You will work directly with our lawyers to prepare for upcoming cases, research legal matters and grow and maintain our databases. With a growing caseload, we need an organized and dedicated professional with superior research and communication skills to help us meet our clients' needs.
The successful candidate will meet these requirements:
Bachelor's degree in paralegal studies

Current certification from NALA

Three years of experience in corporate law

Excellent communication skills

Experience with LexisNexis and Cilo
Related careers