Becoming a nurse practitioner is a long process, but it can be beneficial for those who want to move into the medical field. As nursing professionals, nurse practitioners are qualified to diagnose and treat illness and injury. They also develop care plans and prescribe medications. If you're considering becoming a nurse practitioner, this guide will help you understand how to become one.
Becoming a Nurse Practitioner (NP) is an excellent way to help those in need. Not only do NPs have the opportunity to provide healthcare, but they also can offer education, expertise, and empathy for people who otherwise would not have access to health care. With this job you will be able to help people live better lives by providing preventive and curative care. If this sounds like a good fit for you, read on to learn how to become a nurse practitioner!
What does a Nurse Practitioner do?
A nurse practitioner is a registered nurse who has earned a post-graduate degree in nursing. After graduating, they are eligible to take the national certification exam and become a certified nurse practitioner. They can then provide cost-effective and quality health care services in many different settings such as hospitals, clinics, and private offices.
Nurse practitioners work collaboratively with physicians and other healthcare professionals to provide holistic care for patients of all ages. Nurse practitioners are also qualified to perform certain procedures, prescribe medications, and diagnose illnesses.
Nurse practitioners often work within a specialty such as pediatrics, obstetrics or geriatrics. They can perform their work independently and may even have their own practices, but may also work alongside or consult with physicians and other healthcare professionals as necessary. The level of care a nurse practitioner can provide unsupervised may vary by state.
A nurse practitioner may perform many of the same tasks as a doctor, such as:
Providing primary care

Performing physical examinations

Observing a patient throughout treatment

Recording a patient's medical history and symptoms

Performing, ordering and analyzing diagnostic testing

Diagnosing various health conditions

Creating patient care plans and making changes

Prescribing and administering medications

Referring patients to specialists

Evaluating a patient's response to medicine and their care plan

Educating patients and their families on their conditions and care

Conducting research
Read more: Learn About Being a Nurse Practitioner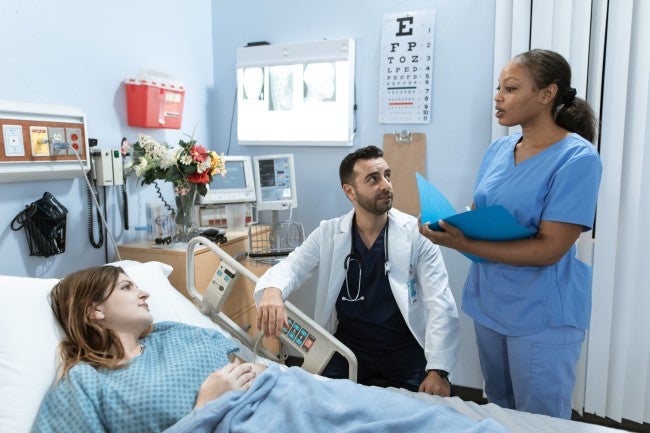 The average salary of a nurse practitioner
The national average salary for a nurse practitioner is $110,136 per year with a salary range between $42,000 and $208,000 per year. Nurse practitioners usually work full-time positions. The salary of a nurse practitioner varies based on their level of education, experience, skill, geographic location and specialty. For the most up-to-date information from Indeed, please click on the salary link above.
How to become a nurse practitioner
If you want to pursue a career as a nurse practitioner, here are the six steps to follow:
1. Begin your post-secondary education
Nurse practitioners are nurses with an advanced level degree, so the first step towards becoming a nurse practitioner is to begin your post-secondary education in a nursing program. These programs often include coursework that focuses on biology, anatomy, chemistry, psychology and statistics.
2. Become a registered nurse
After you have completed an associate-level degree in an accredited nursing program, you can become a registered nurse (RN) by passing the National Council Licensure Exam for Registered Nurses (NCLEX-RN). You will typically earn an associate-level nursing degree after your first two years in a four-year Bachelor of Science in Nursing (BSN) degree program.
3. Gain experience
Once you have passed the NCLEX-RN, you can start to gain clinical experience while you continue to work towards your Bachelor of Science in Nursing (BSN) degree. You can also begin working as an RN to gain the experience you will need as a nurse that many employers will expect from a nurse practitioner.
4. Complete your education
All nurse practitioners are required to have a minimum of a Master's Degree in Nursing. This means that after completing the two-year Associate Degree in Nursing, you will need to complete another two years to earn your Bachelor of Science in Nursing (BSN) degree and then go on to pursue a Master of Science in Nursing (MSN) degree. MSN degree programs typically take between two and four years to complete.
5. Obtain licensure and certification
Every state requires nurse practitioners to be licensed, although licensing requirements vary by state. Typically, licensure requirements include holding a Master of Science in Nursing (MSN) degree, having a valid state-registered nurse (RN) license, completing a certain number of clinical experience hours and passing a national certification examination.
The national certification for nurse practitioners is available from various professional organizations depending on the specialty area you want to practice in, and includes the Pediatric Nursing Certification Board, the American Academy of Nurse Practitioners and the American Nurses Credentialing Center. You may also need additional certifications depending on the type of nurse practitioner you want to be.
6. Search for available jobs
Once you have gained the necessary education, experience and certifications needed to become a nurse practitioner, you are ready to begin your job search. You should start by doing an online search for available nurse practitioner positions in your area. Then, customize your resume to match the key qualifications mentioned in each job you apply for.
Frequently asked questions about being a nurse practitioner
Here are answers to frequently asked questions about being a nurse practitioner:
How long does it take to become a nurse practitioner?
It will take you a minimum of six years to become a nurse practitioner. You need to first obtain a bachelor's degree and then complete a Master of Science in Nursing (MSN) degree. A Nurse Practitioner (NP) master's degree program can take between two and four years to complete. You can gain the clinical experience and certifications you need while you are completing your MSN degree program.
What is the difference between a nurse practitioner and a registered nurse?
The primary difference between a nurse practitioner and a registered nurse is the level of care they are allowed to provide unsupervised. Nurse practitioners are allowed to provide a higher level of care to patients than registered nurses. Unlike a registered nurse, a nurse practitioner is qualified to perform many of the same health care services a doctor can provide including primary care, diagnosing and treating acute illnesses and prescribing medications.
Can a nurse practitioner perform surgery?
While nurse practitioners do not perform complex surgical procedures on their own, they can perform some levels of invasive treatment and may assist surgeons before, during and after surgery. Nurse practitioners are often able to spend more time with patients and their families throughout the surgical process and can, therefore, provide a continuity of care and reassurance during a chaotic time.
Before surgery, nurse practitioners may be responsible for assessing the patient's physical well-being and readiness for surgery and anesthesia and answering questions the patient or their family may have about the procedure.
During surgery, nurse practitioners may be responsible for assisting the surgeon with several tasks such as opening the area for surgery, operating the laparoscopic camera, providing suction, suturing wounds and providing any other assistance deemed appropriate by the surgeon.
A nurse practitioner's post-operative responsibilities may include prescribing and administering medication, assessing the patient as they recover and helping the patient and their family set goals for recovery.
Can a nurse practitioner deliver babies?
Whether a nurse practitioner is allowed to deliver a baby depends on their specialty and level of certification. While registered nurses who work in labor and delivery units sometimes deliver a baby when the doctor doesn't make it to the delivery room quickly enough, the only level of nurses who are specifically trained and qualified to deliver babies without supervision are certified nurse-midwives (CNMs). Certified Nurse-Midwives often advocate for patient-driven birthing options that involve minimal medical intervention.
Both nurse practitioners (NP) and certified nurse-midwives (CNMs) require a master's level degree in nursing, so a nurse practitioner can obtain certification as a certified nurse-midwife by passing the American Midwifery Certification Board examination.
What is the work environment of a Nurse Practitioner?
Nurse practitioners can work in a variety of health care settings including physician's offices, hospitals, outpatient clinics and health care centers, educational services and offices of other health practitioners.
Many nurse practitioners work standard business hour shifts on a Monday through Friday schedule, although depending on their position and where they work, a nurse practitioner may work varying shifts that may include nights, weekends, holidays and on-call schedules.
The role of a nurse practitioner can be both physically and emotionally demanding and may involve working in fast-paced, stressful environments where they need to be able to respond quickly and appropriately while staying calm.
What is a DNP degree?
Nurse practitioners who are interested in continuing to advance their careers may consider pursuing a Doctor of Nursing Practice (DNP) degree. The DNP degree program is the highest degree level available for nurses and typically takes between two or three years to complete.
Related careers